Cut-Resistant Gloves Cut resistant: Level D,E (EN 388:2016) / ANSI/ISEA 105- 16: A4,A5
Sinty cut-resistant gloves ultra-comfortable multi-purpose glove with durable cut resistant properties for precision handling. Engineered glove reinforced with HPPE providing level D(E) cut resistance. Cut resistant: Level D,E (EN 388:2016) / ANSI/ISEA 105- 16: A4,A5
Hands protection
You deserve it
Cut Resistant Glove:
---
Ultra-comfortable multi-purpose glove with durable cut resistant properties for precision handling. Engineered glove reinforced with HPPE providing level D(E) cut resistance.
* 1) Cut resistant: Level D,E (EN 388:2016) / ANSI/ISEA 105- 16: A4,A5.
* 2) Multifilament polyester wrapping liner reinforced with HPPE provides effective
protection against cuts.
* 3) Lightweight and flexible with a NBR coated palm for good grip & aeration.
* 4) NBR foamed coating protects the hand from light oils, grease and abrasions while
remaining breathable.
* 5) Maximum comfort when performing delicate tasks due to soft and flexible HPPE
properties combined with high multifilament wrapping technique.
* 6) Reinforced NBR coating for increased abrasion resistance (Level 4).
* 7) Unique ergonomic shape that replicates the natural curve of the human hand for
enhanced dexterity and longer use.
* 8) Seamless knit designed to prevent irritation.
Hands Protection:
---
Typical Industries —— Aerospace / Automotive / Laboratory / Manufacturing / Mechanical / Metallurgy / Pharmaceutical.
Suitable Applications —— Intricate parts handling / Laboratory, pharma & analyses / Canning / Cleanrooms / Component Assembly / White goods / Mechanical engineering.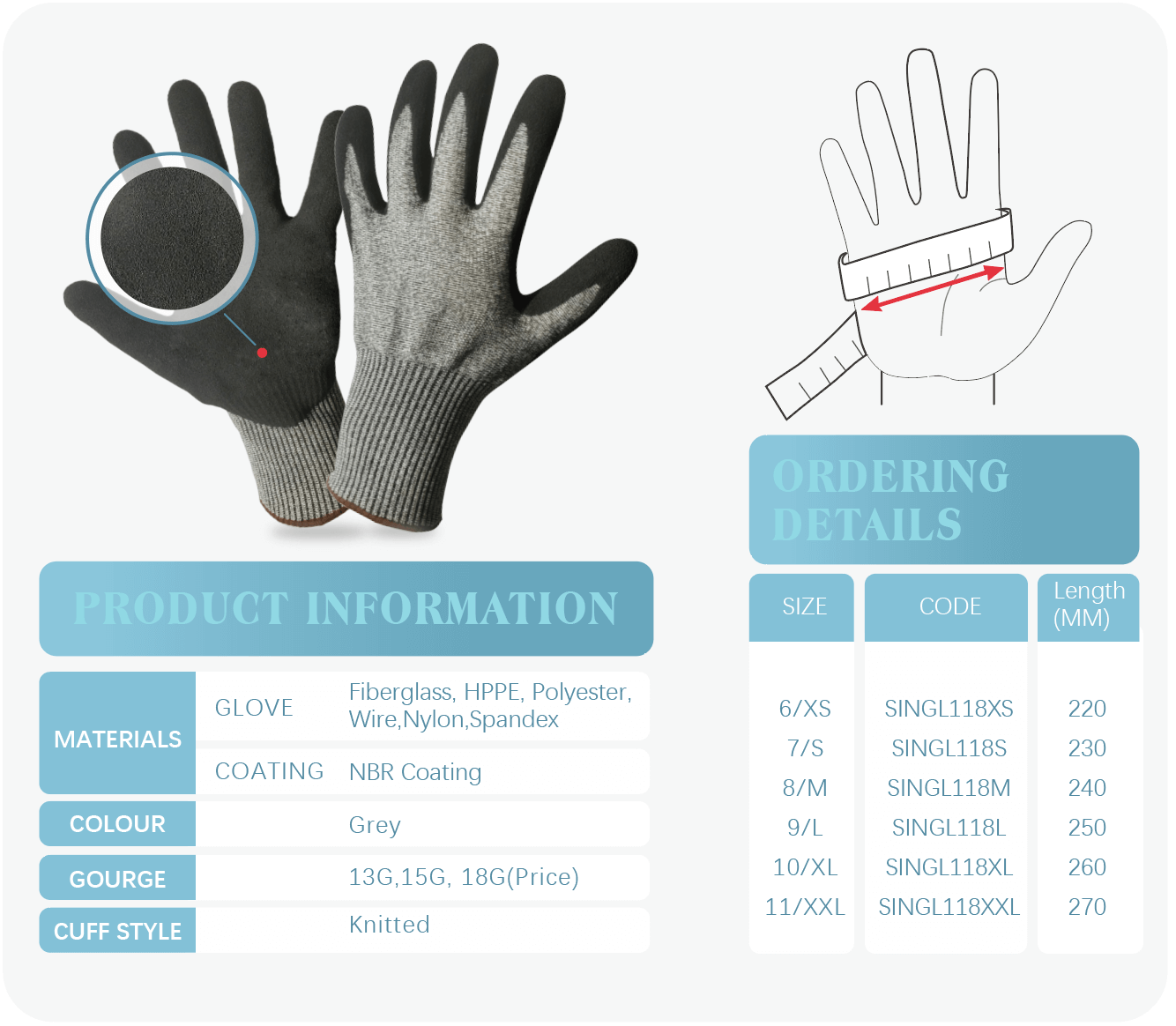 Recommendations For Use:
---
* Do not use where there are chemical, electrical, thermal or entanglement risks.
* Wash at 40°C max.
* Performance levels as per standard EN388 retained after 3 washes, subject to
variations linked to actual usage conditions.
* The performance levels apply to the coated surface only.
* Store in a dry place, away from the light.